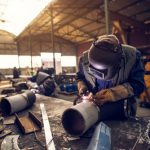 Embarking on a large metal sculpture project is an exciting endeavor that demands meticulous planning and execution. Among the crucial decisions you'll make, selecting the right fabrication services stands out as a pivotal choice. The success of your project hinges on the expertise and capabilities of the fabrication team you choose. In this guide, we will explore the key considerations to ensure you make an informed decision when selecting fabrication services for your large metal sculpture project.
Define Your Project Requirements
Before delving into the selection process, it's imperative to have a clear understanding of your project requirements. Define the size, scope, and intricacies of your metal sculpture. Consider the specific materials you want to use and any unique design elements. This clarity will serve as the foundation for identifying fabrication services that align with your project's needs.
Assess Experience and Expertise
Fabricating large metal sculptures requires a specialized skill set and experience. Look for fabrication services with a proven track record in handling similar projects. Review their portfolio to gauge the diversity and complexity of their past work. Experienced fabricators bring not only technical proficiency but also an understanding of the artistic nuances involved in creating visually stunning metal sculptures.
Technology and Equipment
The fabrication industry is continually evolving, with advancements in technology playing a pivotal role. Assess the fabrication services' technological capabilities and the equipment they utilize. State-of-the-art machinery can significantly enhance precision and efficiency in crafting large metal sculptures. Inquire about the technology they employ for cutting, welding, and shaping metals to ensure it aligns with the standards required for your project.
Material Selection and Sourcing
Different metal sculptures demand different materials, each with its own set of characteristics and challenges. Ensure that the fabrication services you choose have expertise in working with the specific metals your project requires, whether it's stainless steel, bronze, aluminum, or a combination of materials. Additionally, inquire about their sourcing practices to guarantee the quality and integrity of the materials used in your sculpture.
Quality Assurance and Testing
Maintaining the structural integrity and aesthetic appeal of a large metal sculpture is paramount. Inquire about the quality assurance measures and testing protocols employed by the fabrication services. This includes inspections for weld integrity, surface finish, and overall structural soundness. A commitment to quality ensures that your metal sculpture will not only meet but exceed industry standards.
Project Management and Timelines
Efficient project management is critical to the timely completion of your large metal sculpture. Discuss the fabrication services' project management approach and inquire about their ability to adhere to timelines. Clear communication channels and a well-defined project schedule will minimize the risk of delays and ensure that your sculpture is completed within the agreed-upon timeframe.
Budget Considerations
While quality should be a non-negotiable factor, it's equally important to consider your budget constraints. Obtain detailed quotes from potential fabrication services, breaking down the costs associated with materials, labor, and any additional services. A transparent and comprehensive understanding of the financial aspects will enable you to make an informed decision that aligns with your budget while ensuring the quality and success of your project.
Reputation and References
A fabrication service's reputation is a testament to its reliability and customer satisfaction. Research customer reviews, testimonials, and any available references. Reach out to past clients if possible to gain firsthand insights into their experiences. A positive reputation indicates not only the quality of work but also the professionalism and integrity of the fabrication services.
Environmental Considerations
As environmental consciousness becomes increasingly important, inquire about the fabrication services' commitment to sustainable practices. Ensure that they adhere to environmental regulations and prioritize eco-friendly solutions where possible. Responsible fabrication practices not only contribute to a healthier planet but also reflect positively on your project and your values.
Summary
Choosing the right fabrication services for your large metal sculpture project is a multifaceted process that demands careful consideration. By defining your project requirements, assessing experience, evaluating technology and equipment, scrutinizing material selection and sourcing, emphasizing quality assurance, managing timelines and budgets effectively, considering reputation and references, and accounting for environmental considerations, you can make an informed decision that paves the way for a successful and visually stunning metal sculpture. Remember, the collaboration between your artistic vision and the expertise of the fabrication team is the key to bringing your large metal sculpture project to life.
Need Metal Fabrication in Phoenix, AZ?
Welcome to Metal Pro, Inc., Phoenix's premier fabricator job shop. Metal Pro, Inc. offers numerous services, including plasma and flame cutting, tee rolling, angle irons, and channel tube piping. We utilize press brakes, CNC plasma cutting, sheering tools, and MORE! We're available on weekends by appointment only. Contact us today for all of your job site machining needs.