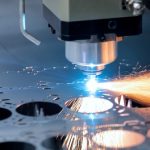 Metal fabrication projects often require various machining processes and specialized equipment to transform raw materials into finished products. Machine shop services play a crucial role in this process, providing the necessary precision and expertise to create complex metal parts and components. In this blog post, we will explore some of the different machine shop services available for metal fabrication projects.
1. CNC Machining
CNC (Computer Numerical Control) machining is a process in which a computer program controls the movements and actions of machine tools. This technology enables high precision and accuracy in metal fabrication by automating various tasks such as cutting, drilling, and shaping. CNC machining can be used to create intricate designs and complex geometries that would be challenging or impossible with manual machining techniques. From milling and turning to drilling and threading, CNC machining is a versatile service that can meet the demands of a wide range of metal fabrication projects.
2. Manual Machining
While CNC machining offers numerous advantages, manual machining still holds its importance in certain metal fabrication projects. Skilled machinists can use manual machines like lathes, mills, and drills to perform precise operations on metal materials. This service is particularly suitable for one-off or low-volume production runs, as it allows for quick setup and adjustments. Manual machining is also often relied upon for tasks that require intricate hand-crafted details or when working with unconventional materials.
3. Welding and Fabrication
Welding is another essential machine shop service for metal fabrication projects. It involves joining two or more pieces of metal together by melting and fusing the materials. Various welding techniques such as MIG (Metal Inert Gas), TIG (Tungsten Inert Gas), and stick welding can be utilized depending on the specific project requirements. Welding is not only used for joining metal parts but can also be employed for repairs, modifications, and the creation of welded structures. Fabrication services further complement welding, as they involve the cutting, bending, and shaping of metal to create customized components or structures.
4. Sheet Metal Processing
Sheet metal processing encompasses a range of specialized machine shop services dedicated to working with thin metal sheets. Processes such as shearing, bending, punching, and laser cutting allow for the precise manipulation of sheet metal to create various products, including enclosures, panels, brackets, and more. Sheet metal fabrication is commonly employed in industries like aerospace, automotive, electronics, and construction due to its versatility and cost-effectiveness.
5. Grinding and Finishing
Grinding and finishing services are essential for achieving the desired surface finish and dimensional accuracy of metal parts. These processes involve the removal of excess material or imperfections using abrasive tools. Grinding can be performed manually or using CNC machines, ensuring a consistent finish across large production runs. Additionally, various finishing techniques like sanding, polishing, and painting can be applied to enhance the aesthetic appeal and protect the metal from corrosion or wear.
6. Prototyping and Design Assistance
Machine shop services often offer prototyping and design assistance to help clients bring their metal fabrication ideas to life. Skilled engineers and machinists can provide valuable insights into the feasibility and optimization of the design, making recommendations to improve functionality, reduce costs, or enhance manufacturing efficiency. Through the prototyping process, clients can test and evaluate the initial concepts before proceeding with large-scale production, ensuring that the final product meets all requirements and specifications.
Conclusion
Machine shop services play a crucial role in metal fabrication projects, offering a wide range of capabilities to transform raw materials into finished products. Whether utilizing CNC machining for high precision or relying on manual machining for customization, these services provide the expertise, tools, and equipment necessary to bring metal fabrication ideas to fruition. From welding and sheet metal processing to grinding and finishing, the various machine shop services available ensure that every aspect of the manufacturing process is covered. And with prototyping and design assistance, clients can achieve optimal results and successfully navigate the challenges of metal fabrication projects.
Got Questions? Let Us Help!
Welcome to Metal Pro, Inc., Phoenix's premier fabricator job shop. Metal Pro, Inc. offers numerous services, including plasma and flame cutting, tee rolling, angle irons, and channel tube piping. We utilize press brakes, CNC plasma cutting, sheering tools, and MORE! We're available on weekends by appointment only. Contact us today for all of your job site machining needs.