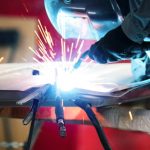 Metal artworks have always been admired for their elegance, durability, and intricate designs. From statues and sculptures to functional art pieces like gates and railings, metal has been a popular choice among artists and craftsmen. However, creating high-quality metal artworks requires more than just talent and creativity – it requires the expertise of metal fabrication services. In this blog post, we will discuss the importance of metal fabrication services in creating high-quality metal artworks.
1. Precise Material Selection:
Metal fabrication services play a crucial role in the selection of appropriate materials for metal artworks. Different metals have distinct properties, such as malleability, strength, and resistance to corrosion. Skilled fabricators can identify the most suitable material for a specific artwork, considering factors like the intended use, desired appearance, and budget. This helps ensure that the final product will meet the desired quality standards and longevity.
2. Expertise in Metalworking Techniques:
Metal fabrication services possess a deep understanding of various metalworking techniques. Cutting, shaping, molding, and joining metals require specialized knowledge and equipment. With their expertise, metal fabricators can employ appropriate techniques like welding, shearing, grinding, and bending to transform raw metal into stunning artistic pieces. Their skillful application of these techniques guarantees the creation of high-quality metal artworks.
3. Customization and Attention to Detail:
When it comes to metal artworks, customization is often key. Metal fabrication services offer the ability to tailor each piece to the artist's vision and specific requirements. Skilled fabricators can accurately interpret the artist's design and transform it into a three-dimensional reality. From intricate details to precise dimensions, metal fabrication services excel in creating custom metal artworks that accurately represent the artist's vision.
4. Quality Control and Consistency:
Metal fabrication services are committed to delivering high-quality products consistently. They adhere to strict quality control processes throughout the fabrication process, ensuring that each piece meets the desired standards of durability, appearance, and functionality. Metal fabricators also have access to advanced tools and machinery, which enables them to achieve a high level of precision and consistency in their work. This ensures that every metal artwork produced is of superior quality.
5. Collaboration and Expert Advice:
Collaborating with metal fabrication services provides artists with valuable insights and expert advice. Metal fabricators have extensive experience working with various artists, architects, and designers, giving them a deep understanding of different artistic visions and requirements. They can offer valuable suggestions to enhance the design, suggesting improvements in terms of material selection, structural integrity, and other technical aspects. This collaboration between artists and metal fabricators helps create exceptional metal artworks.
6. Versatility and Diverse Applications:
Metal fabrication services offer immense versatility and can create a wide range of metal artworks. From large-scale public sculptures to delicate jewelry pieces, metal fabricators have the skills and resources to bring any artistic idea to life. They can work with different metals like steel, aluminum, copper, and brass, adapting to the specific requirements of each artwork. This versatility allows artists to explore various creative possibilities and create unique metal artworks.
Conclusion:
The importance of metal fabrication services in creating high-quality metal artworks cannot be overstated. Their expertise in material selection, metalworking techniques, customization, quality control, collaboration, and versatility ensures that artists can bring their creative visions to life. Metal fabrication services provide artists with the precision, consistency, and expert advice required to create exceptional metal artworks that are durable, aesthetically pleasing, and highly valued.
Got Questions? Let Us Help!
Welcome to Metal Pro, Inc., Phoenix's premier fabricator job shop. Metal Pro, Inc. offers numerous services, including plasma and flame cutting, tee rolling, angle irons, and channel tube piping. We utilize press brakes, CNC plasma cutting, sheering tools, and MORE! We're available on weekends by appointment only. Contact us today for all of your job site machining needs.