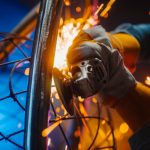 When it comes to creating large-scale sculptures and statues, metal fabrication services play a crucial role. This specialized branch of manufacturing offers a range of capabilities, equipment, and expertise needed to bring grand artistic visions to life. Whether it's a magnificent sculpture for a public space or a stunning artwork for a private collection, metal fabrication services can turn ideas into reality. In this blog post, we will explore why metal fabrication is a preferred choice for creating large-scale sculptures and statues and discuss the various services involved in the process.
Why Metal Fabrication for Large-Scale Sculptures & Statues?
Metal fabrication offers unique advantages when it comes to creating large-scale sculptures and statues. Some of the reasons why metal is a preferred choice include:
1. Durability: Metal sculptures are known for their long-lasting durability, making them suitable for outdoor installations that can withstand various weather conditions.
2. Versatility: Metal fabrication allows for a wide range of possibilities in terms of shapes, sizes, and forms. From intricate designs to bold and solid structures, metal can be manipulated to fulfill the artist's vision.
3. Structural Integrity: Creating large-scale sculptures and statues requires a sturdy framework. Metal fabrication ensures the necessary strength and structural integrity to support the weight and withstand external forces.
4. Customization: Metal fabrication services offer artists the ability to customize their creations based on their artistic vision. With a variety of metals, finishes, and techniques available, every sculpture can be made unique.
Metal Fabrication Services Involved:
Creating large-scale sculptures and statues involves several metal fabrication services. Let's delve into each of them:
1. Design and Engineering:
The first step in creating a large-scale sculpture or statue is the design and engineering phase. Skilled metal fabricators work closely with artists and designers to understand the vision, evaluate the feasibility, and provide technical expertise. Utilizing computer-aided design (CAD) software, potential design limitations and structural considerations can be addressed early in the process.
2. Material Selection:
Choosing the right type of metal is crucial for the durability and aesthetics of the sculpture. Common metals used in metal fabrication for sculptures include stainless steel, bronze, aluminum, and corten steel. Each metal has unique properties that can enhance the sculpture's appearance and withstand the environmental conditions it will be exposed to.
3. Cutting and Shaping:
Once the design is finalized, metal fabrication services employ various techniques to cut and shape the metal. Laser cutting, waterjet cutting, and plasma cutting are commonly used to precisely cut through metals of different thicknesses. These techniques ensure accurate and sharp cuts, allowing the fabricators to bring the design to life.
4. Welding and Joining:
Welding is a key process in metal fabrication, especially for large-scale sculptures and statues. It involves joining metal parts together using heat and specialized techniques. Skilled welders work meticulously to create strong and seamless joints, ensuring the structural integrity of the sculpture.
5. Surface Finishing and Coating:
Surface finishing and coating are essential to enhance the appearance of the sculpture and protect it from corrosion and weathering. Techniques such as grinding, polishing, and brushing give the metal a smooth and refined finish. Additionally, various coatings can be applied, including powder coating, electroplating, or patination, to add color, texture, or a unique visual effect to the sculpture.
6. Installation and Transportation:
Once the sculpture is complete, metal fabrication services also handle the installation and transportation process. Large-scale sculptures often require specialized equipment and expertise to safely transport and install them at their final location. Metal fabricators work closely with installation contractors to ensure the seamless delivery and setup of the sculpture.
Conclusion:
Metal fabrication services offer unparalleled capabilities when it comes to creating large-scale sculptures and statues. With their expertise in design, engineering, cutting, shaping, welding, surface finishing, and installation, metal fabricators can turn artistic visions into awe-inspiring metal creations. Through collaboration between artists, designers, and metal fabricators, the possibilities for large-scale sculptures and statues are limited only by imagination.
Got Questions? Let Us Help!
Welcome to Metal Pro, Inc., Phoenix's premier fabricator job shop. Metal Pro, Inc. offers numerous services, including plasma and flame cutting, tee rolling, angle irons, and channel tube piping. We utilize press brakes, CNC plasma cutting, sheering tools, and MORE! We're available on weekends by appointment only. Contact us today for all of your job site machining needs.